Bawdy & Naughty
Neighborhood: Downtown
Description
"The Barbary Coast is the haunt of the low and the vile of every kind. The petty thief, the house burglar, the tramp, the whoremonger, lewd women, cutthroats, murderers, all are found here … And Hell, yawning to receive the putrid mass, is there also."
Benjamin Estelle Lloyd wasn't far off in his 1876 description of San Francisco's wild red-light district (if not a bit overdramatic). The Barbary Coast was where the city's lawlessness manifested, filled with establishments that didn't just allow gambling, drinking and prostitution — they encouraged it. Professional women would soon become a significant force in San Francisco's history. Madams like Ah Toy and Belle Cora were local legends, revolutionizing their industry and becoming extremely rich in the process.
Discover the stories only heard through whispers and gossip, all the explosive tales brewed in the Old West's last bastion of vice. See where the prospectors came to get a dose of hedonism. It's a two-block stroll that's packed to the brim with intrigue — come along for the ride.
Next Tours
None scheduled in next 60 days
Notes
Tour Length: Approximately 1-1/2 to 2 hours
Location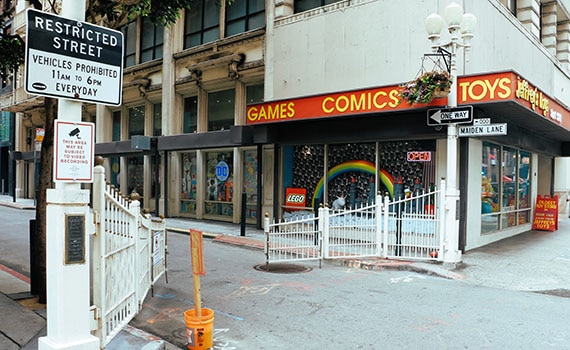 Meet at Kearny & Maiden Lane. Public transportation: MUNI lines 9x, 9ax, 9bx, 15, 30, 45, 81x; also one block west of Montgomery MUNI/BART station.
Click the map to view full version on Google Maps
View Transit Directions on Google Maps >>
Please note: Private groups tours required for groups of 8 or more.