Description
On three separate dates (June 18th, 19th and 25th) you have a rare opportunity to get out into two famous  and historic San Francisco gay-centric neighborhoods, or "gayborhoods" on one day.
This special PRIDE tour starts in the Castro under the giant rainbow flag at Market and Castro Sts – at 10 am – where you will hear stories about the vibrant gay community that had been taking root in the Castro and would come to transform San Francisco politics, leading to the historic election of Harvey Milk as one of the first openly gay elected officials in the country. You'll visit some historic landmarks in the neighborhood including the Castro theater, Twin Peaks, the camera shop where Harvey ran his campaign and the Pink Triangle Memorial.  You will hear the stories and feel the momentum that played a role in making the Castro one of the epicenters of the gay rights movement — and a place where LGBT people could live openly – a tradition that continues today.
Following the Castro segment, we will provide recommendations for lunch in either "gayborhood" – and instructions on how to get to the start of the Folsom segment.
At 1 pm, you will pick up the tour at Russ and Folsom St, and travel the "Miracle Mile", where leather is always in. You will learn about the leather bar that opened in South of Market in 1962, attracting the attention of the entire nation as a result of media coverage. Folsom was a fertile ground for the secretive gay and leather bar community: as a vast warehouse district, it provided large spaces that were often deserted at night. It would become the site of countless successful and significant clubs. Discover what remains of one of the city's most dynamic subcultures. The tour will end at 12th St and Folsom, around 2:15, across from a few iconic clubs.
Next Tours
None scheduled in next 60 days
Notes
Content may not be appropriate for children under 14 years of age.
Location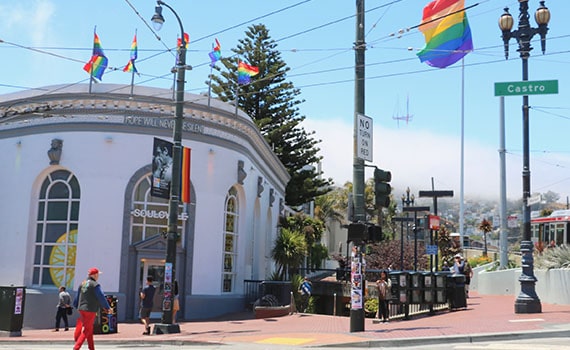 Castro Segment: Meet near the giant rainbow flag – Market and Castro at Harvey Milk Plaza.
Folsom Segment: Meet at Russ and Folsom Streets.
Note: Please check MUNI's most current schedule.