Downtown Stroll
Neighborhood: Downtown
Description
This Stroll blends three of the City's most epic stories: its Gold Rush beginning which captured the world's imagination, its utter destruction in one of the world's most devastating earthquakes and fires, and its dramatic rebirth as a forest of graceful skyscrapers designed by legendary architects. 
This Stroll traces San Francisco from its birth as a tiny village tucked amidst massive sand dunes and frequented by grizzly bears and mountain lions thru its transformation virtually overnight into a booming instant city. Learn about larger-than-life characters and a city built atop a fleet of abandoned ships still buried beneath the financial district. We relive the 60 seconds of terror on April 18, 1906 as a massive earthquake sent survivors pouring into the streets to witness devastating fires consume 75% of the city. We follow one of the most compelling resilience stories in history as the determined city rebuilds. This Stroll examines the architecture of some of the recent skyscrapers as well as many of the earlier structures that arose from the ashes as San Francisco reclaimed its place as a capital of the American West. 
Strolls will follow a strict no-contact policy, so rather than accepting donations at the conclusion of a walk, people will be asked to donate $15 per person online when reserving their spot. City Guides is earmarking most of that donation to support history education in San Francisco through the Fracchia Prize that City Guides co-sponsors with the San Francisco Historical Society.
Note that these strolls are limited to 10 people. Pre-registration is required.
Next Tours
Saturday, August 8 at 2:00 pm given by SF City Guides
Saturday, August 15 at 2:00 pm given by SF City Guides
Wednesday, August 19 at 2:00 pm given by SF City Guides
Saturday, August 22 at 2:00 pm given by SF City Guides
View Calendar
Notes
This tour is 2 hours long.
Please remember to bring a face mask.  Attendees without proper face coverings will not be permitted to go on the tour.
For a complete list of our safety precautions, please click here.
Location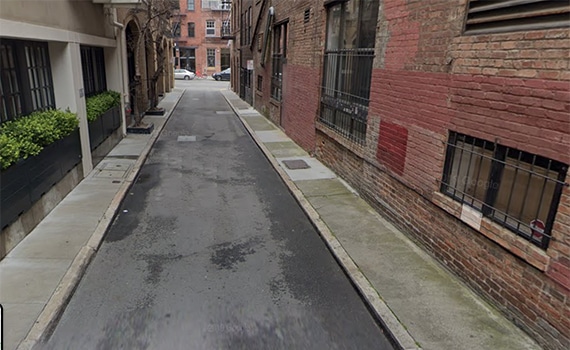 Meet your guide at the corner of Gold and Balance Streets.
Click the map to view full version on Google Maps
View Transit Directions on Google Maps >>
Please note: Private groups tours required for groups of 8 or more.