Seacliff to Cliff House Stroll
Neighborhood: Seacliff
Description
Across the West Coast, there are few ocean vistas more exciting than from the Lands End Trail. Millionaire Adolph Sutro also agreed – in the 1880's, he was a catalyst to build the first passenger train to the area, including the park and attractions he conceived at Lands End. This made Sutro a local hero, allowing the rich and poor alike to experience the dramatic, wind-swept scenery. With sweeping and lush tree-filtered views of the Marin Headlands, the Golden Gate Bridge and the Pacific Ocean, we'll explore the local and natural history of this storied land along our stroll.
The walk will start near Seacliff and wind its way to see the Cliff House and return via the old El Camino Del Mar Road. The trail is generally level but has stairs and is occasionally uneven. We recommend sturdy walking shoes or comfortable sneakers and layered clothing. Total walking distance is 4.5 miles.
Be prepared for some of the best urban trails San Francisco has to offer!
Strolls will follow a strict no-contact policy, so rather than accepting donations at the conclusion of a walk, people will be asked to donate $15 per person online when reserving their spot. City Guides is earmarking most of that donation to support history education in San Francisco through the Fracchia Prize that City Guides co-sponsors with the San Francisco Historical Society.
Note that these strolls are limited to 10 people. Pre-registration is required.
Next Tours
Wednesday, August 5 at 2:30 pm given by SF City Guides
Saturday, August 8 at 2:00 pm given by SF City Guides
Wednesday, August 12 at 2:30 pm given by SF City Guides
Saturday, August 15 at 2:00 pm given by SF City Guides
View Calendar
Notes
This tour is 2 hours long.
Please remember to bring a face mask.  Attendees without proper face coverings will not be permitted to go on the tour.
For a complete list of our safety precautions, please click here.
Location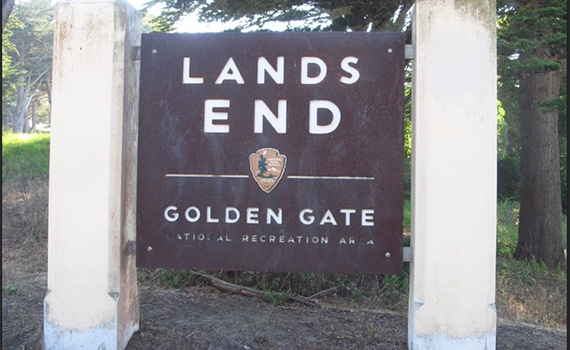 Meet your guide at the Lands End Trailhead sign, 32nd Avenue & El Camino Del Mar.
Click the map to view full version on Google Maps
View Transit Directions on Google Maps >>