The Best of Golden Gate Park 
Neighborhood: Golden Gate Park
Description
Join us for a stroll through Golden Gate Park that highlights parts of SF City Guides' three walking tours in the Park: Golden Gate Park East, American History in Golden Gate Park, and Stow Lake-Strawberry Hill. Starting at Conservatory of Flowers we'll wind our way through the Park, noting monuments, landmark groves, museums and gardens, all the while hearing Park history and see it's world famous beauty. From the familiar Music Concourse with it's world class museums, we will go to Stow Lake and walk along a more natural landscape as we climb to the top of Strawberry Hill and have a view of the City. We descend along steep stairs along a rushing waterfall back to Stow Lake. This is the Park that some said could never be built. Come see for yourself.
Strolls will follow a strict no-contact policy, so rather than accepting donations at the conclusion of a walk, people will be asked to donate $15 per person online when reserving their spot. City Guides is earmarking most of that donation to support history education in San Francisco through the Fracchia Prize that City Guides co-sponsors with the San Francisco Historical Society.
Note that these strolls are limited to 10 people. Pre-registration is required.
Next Tours
Wednesday, August 5 at 10:30 am given by SF City Guides
Saturday, August 8 at 10:30 am given by SF City Guides
Wednesday, August 12 at 10:30 am given by SF City Guides
Saturday, August 15 at 10:30 am given by SF City Guides
View Calendar
Notes
This tour is 2 hours long.
Please remember to bring a face mask.  Attendees without proper face coverings will not be permitted to go on the tour.
For a complete list of our safety precautions, please click here.
Location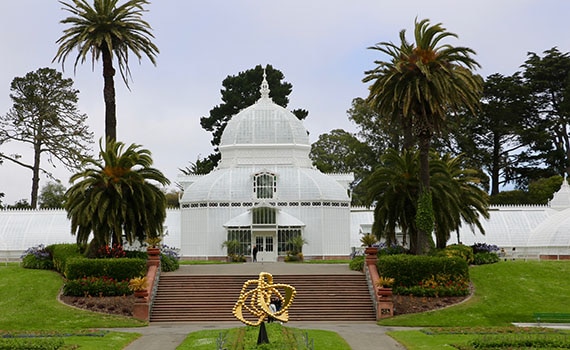 Meet your guide at the steps in front of the Conservatory of Flowers at 100 John F Kennedy Dr. in Golden Gate Park.
Please note the City has closed part of John F. Kennedy Drive in Golden Gate Park to vehicular traffic, JFK Drive will be closed to traffic from Kezar Drive to Transverse Drive.
Click the map to view full version on Google Maps
View Transit Directions on Google Maps >>