Visitacion Valley Part I
Neighborhood: Visitacion Valley
Description
Put yourself into the shoes of an 18th century Franciscan friar for a moment — sailing into the San Francisco Bay, lost in the fog, not entirely sure where you're going. Then, as the fog clears, you see a vast valley. You land, unload your things, and gaze upon the delicious vista of San Bruno Mountain and the Bay. What a wonderful place to get lost at sea.
The locals dub Vis Valley a "hidden treasure," unacknowledged by the city folk on the northern end of the peninsula. It's long been home to factories, farms and numerous public housing complexes, but stubbornly continues to keep its pastoral nature.
This walk will focus on the commerce that built the valley, and how public and private transportation innovations made it a viable hideout from the city. We'll foray through Little Hollywood (and hear about the confusing circumstances of its name), ending at the influential Silvestri family's log cabin.
Next Tours
None scheduled in next 60 days
Schedule
Check Calendar for schedule
Notes
Tour Length: Approximately 1-1/2 to 2 hours
Location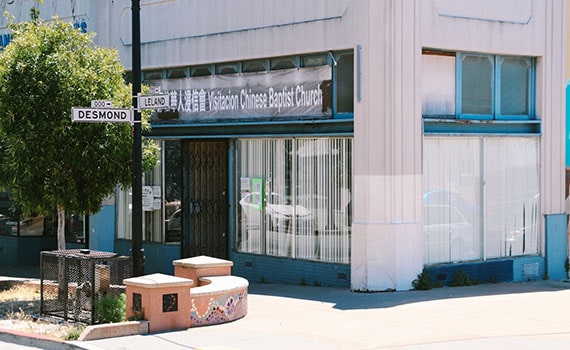 Meet at 45 Leland Ave. near Bayshore. Public transportation: MUNI lines 9, 8 and T light rail line
Click the map to view full version on Google Maps
View Transit Directions on Google Maps >>
Please note: Private groups tours required for groups of 8 or more.