Visitacion Valley Part II
Neighborhood: Visitacion Valley
Description
The locals dub Vis Valley a "hidden treasure," unacknowledged by the city folk on the northern end of the peninsula. It's long been home to factories, farms and numerous public housing complexes, but stubbornly continues to retain its pastoral nature.
This tour will concentrate on community life in the valley: including Eichler housing, a stunning Julia Morgan church, landscaped greenways, and plenty more. Come and explore the "Valley of the Windmills," a refreshing open-air escape from the city.
Next Tours
None scheduled in next 60 days
Schedule
Check Calendar for schedule
Notes
Tour Length: Approximately 1-1/2 to 2 hours
Location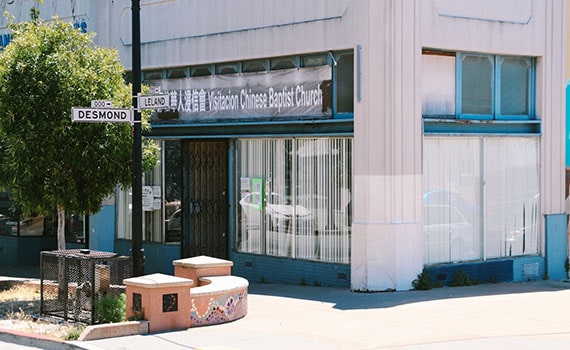 Meet at 45 Leland Ave. near Bayshore. Public transportation: MUNI lines 9, 8 and T light rail line.
Click the map to view full version on Google Maps
View Transit Directions on Google Maps >>
Please note: Private groups tours required for groups of 8 or more.