Alfred Hitchcock's San Francisco
Neighborhood: Nob Hill/ Union Square
Description
San Francisco is an inherently cinematic city. Its rolling hills, Victorian roof lines, and panoramic vistas would make it a tremendous backdrop for any director — but nobody knew how to film the city better than the legendary Alfred Hitchcock.
Hitchcock fell in love with the city while filming here in 1939. After planting his roots in a sprawling estate an hour south, the Master of Suspense churned out several classics featuring San Francisco — including his masterpiece Vertigo. See the landmarks Hitchcock shot and learn how he used the city's unique look to create his signature sense of paranoia. Discover what made San Francisco one of Hitchcock's favorite cities, and gain an even greater appreciation for Hitchcock's faithful encapsulation of San Francisco in the 1950s and '60s. A truly thrilling trip down memory lane.
View Calendar
Notes
Tour Length: Approximately 1-1/2 to 2 hours
Location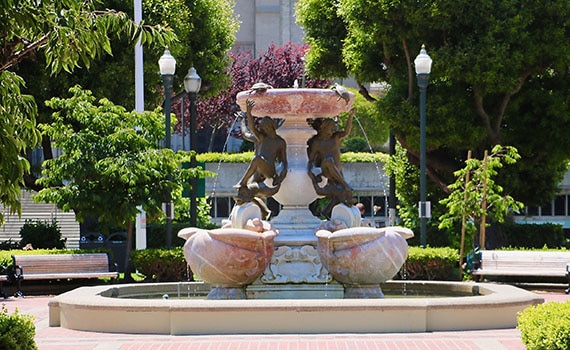 Meet at the fountain in Huntington Park, off Sacramento Street between Taylor and Mason. Tour ends in Union Square and includes a steep downhill walk.
Click the map to view full version on Google Maps
View Transit Directions on Google Maps >>
Please note: Private groups tours required for groups of 8 or more.