Free Walking Tours of San Francisco
Our City at Your Feet
70 Unique Tours. 300 Volunteers. 45 Years.
Why Tour With Us

No-Cost Tours
Our 1.5 to 2 hour tours are always free, but we welcome donations to support our mission of keeping San Francisco's history accessible.

Expert Tour Guides
Our tour guides go through extensive training to learn about the history of our beautiful city and how to share that history with you.

A Tour for Everyone
We offer over 80 different tours – allowing you to learn about the diverse ways that San Francisco became the vibrant city it is today.
About Us
City Guides, founded in 1978, is an independent 501c3 non-profit organization with more than 300 trained volunteers who lead FREE historical and architectural walking tours in San Francisco for over 35,000 locals and visitors each year. We are a program of the San Francisco Public Library. Join us for a walk along the streets, sidewalks, and byways of America's most beautiful – and fascinating – city!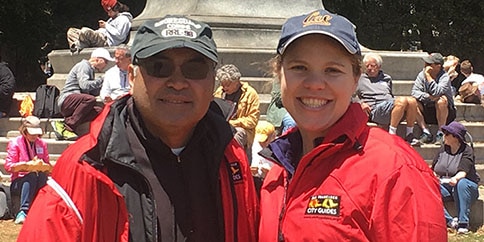 Loved By Many
We always learn something new and go to places we probably wouldn't have discovered on our own.

TripAdvisor – Feb '22
The walking pace of the tour was comfortable, many spots to stop for photo opportunities, the group was small and felt safe.

Yelp! – Feb '22
Join an experienced City Guide for a leisurely, anecdotal free walking tour through local history, architecture and culture. Prowl Gold Rush streets and alleys, stroll a neighborhood of grand Victorian houses or an ethnic village within the City.

SFTravel.com
One of the best ways to see San Francisco on the cheap!

SF.FunCheap.com
As a local, it never ceases to amaze me at how many new things I discover on these tours. I can't wait until my family comes back so that I can take them on the Haight-Ashbury tour.

Trip Advisor – Oct '21