Billionaires' Row: Outer Broadway Architecture
Neighborhood: Pacific Heights
Description
Join us for a stroll through the City's most expensive and prestigious neighborhood, with unsurpassed views overlooking the Bay.
After the 1906 earthquake pummeled their Nob Hill enclaves, the wealthy titans of San Francisco became temporary nomads. With the landscape wiped clean, where in the city was the best place to put down roots? The best view of the Bay was located on the hills of Pacific Heights, where real estate was essentially up for grabs. The gold rush and timber barons of the 19th century, the oil and transportation tycoons of the 20th century, and more recently the 21st century tech titans have all lifted home prices into the stratosphere.
On this tour you'll see exceptional architecture, the headquarters of a monumental rehab program, and a humble church that ignited a movement. Hear about the escapades of billionaires who found a home here, with plenty of stories that rarely see the light of day.
View Calendar
Notes
Tour Length: Approximately 1-1/2 to 2 hours
Location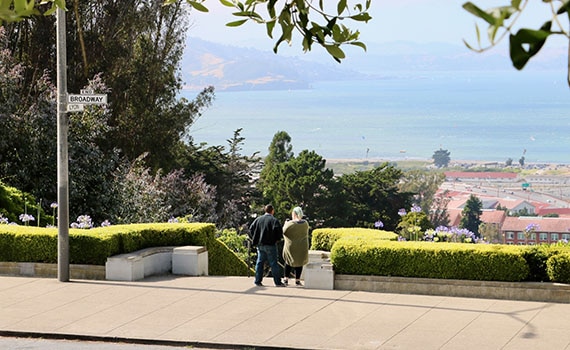 Meet at the corner of Broadway & Lyon Street.
Note: Please check MUNI's current schedule.
Click the map to view full version on Google Maps
View Transit Directions on Google Maps >>
Please note: Private groups tours required for groups of 8 or more.