Cable Cars: Halfway to the Stars
Neighborhood: Nobhill
Description
Since Andrew Smith Hallidie introduced Cable Cars in 1873, San Francisco's cable car lines changed the landscape of San Francisco, making hilly neighborhoods accessible.  The cable cars survived the 1906 earthquake and fire as well as outlasting political attempts to modernize transportation.  The cable cars have gained worldwide attention over the decades to become what it is seen as today – an icon.
Cable Cars have captivated both locals and tourists alike blending technology, politics and passion.  It's been in operation for 150 years, and have become one of the most recognizable symbols of The City.
Riding a cable car is a quintessential San Francisco experience, but taking a walking tour to learn about the history of these historic cars are a great way to immerse yourself in the city's rich cultural heritage.  Whether you're a long-time resident or a first-time visitor to the city, this walking tour is a must-do experience for anyone interested in San Francisco's history and culture.  Grab a handle and step aboard the cable car sideboard for a few stories from the past on the ups and downs of San Francisco's cable car history.
View Calendar
Notes
Approximately 1 to 1 1/2 hour
Bring a jacket.
This tour is a deeper dive historically and may not suitable for young children.
Tour ends at the Cable Car Museum at Mason and Washington Streets.
Location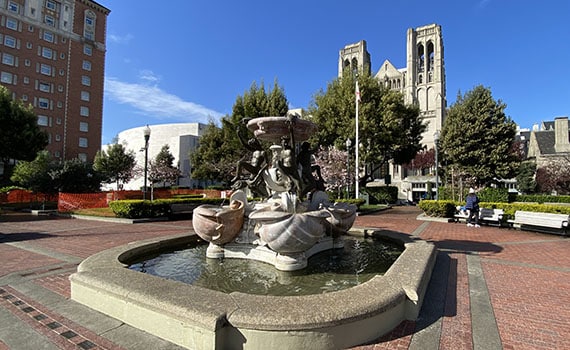 Meet at the fountain at the center of Huntington Park.
California Cable Car to Nob Hill.
Powell/Hyde Street Cable Car to California Street.
MUNI: 1 California
Click the map to view full version on Google Maps
View Transit Directions on Google Maps >>
Please note: Private groups tours required for groups of 8 or more.