Climate Change at Crissy Field
Neighborhood: Crissy Field
Description
Join the Climate Change at Crissy Field tour to explore the breathtaking, 180-degree views of San Francisco Bay from Crissy Field and to discuss the threat of climate change and sea level rise to Crissy Field's beauty. You will see the recent restoration that converted the US Army airfield to a bird-friendly marsh that can reduce the impacts of greenhouse gas emissions. Learn about local heroes who fought for protection of SF Bay and the history of how rapid population increase changed the local habitats of birds, trees, and fish. See what SF is doing to become a sustainable city. Join a spirited discussion of how you can lower your own carbon footprint and participate in climate decisions impacting your home community.
View Calendar
Notes
Tour Length: Approximately 1-1/2 to 2 hours
Crissy Field is often windy, foggy, and chilly; so be sure to dress in multiple layers. The tour route is about 1/3 mile long and flat. We share the path with bicycles, runners, and dogs.
Location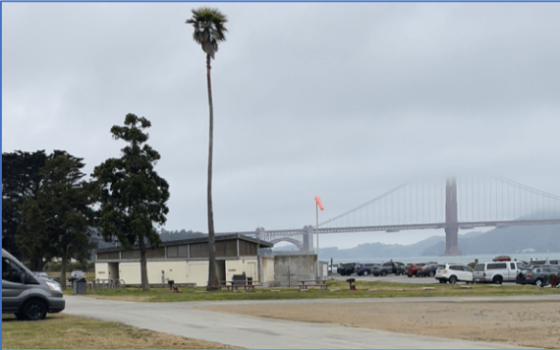 Crissy Beach Changing Rooms next to the orange windsock and the Crissy Field East Beach Parking Lot.
Public Transportation: SFMTA/MUNI Bus 30 Stockton stops at Mason St and Yacht Rd, about ¼ mile southeast of the starting location.
Click the map to view full version on Google Maps
View Transit Directions on Google Maps >>
Please note: Private groups tours required for groups of 8 or more.