Corona Heights Stairways
Neighborhood: Castro/Haight-Ashbury
Description
Explore the Corona Heights neighborhood directly adjacent to the Castro. The tour visits the Corona Heights Hill, Buena Vista Park, Mount Olympus and takes in some of the most spectacular views of San Francisco. You will learn about the history, architecture and the underlying geology of the neighborhood, and some of the people and events that shaped the hill.
Next Tours
Saturday, October 10 at 2:00 pm given by Jeff Suppes
Saturday, October 24 at 2:00 pm given by Michael Palmer
View Calendar
Notes
This tour includes several stairways, some steep hills and uneven ground. You should be reasonably fit to get the maximum enjoyment from this tour and sturdy walking shoes are highly recommended.
Tour Length: Approximately 2 hours
Location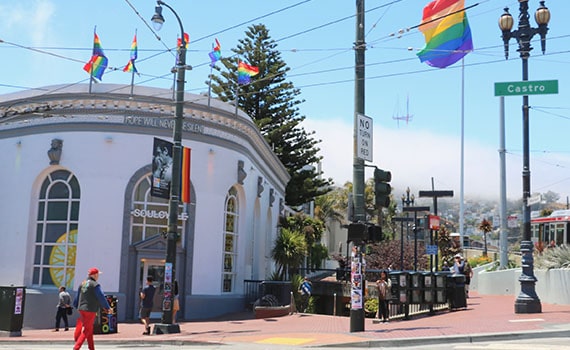 Meet near the giant rainbow flag – Market and Castro  Harvey Milk Plaza.
Note: Please check MUNI's current schedule.
Click the map to view full version on Google Maps
View Transit Directions on Google Maps >>
Please note: Private groups tours required for groups of 8 or more.