Cow Hollow
Neighborhood: Cow Hollow
Description
Perk up your Sunday morning with the bell ringing at the oldest Orthodox Christian parish in America. Spared destruction from the 1906 disaster, Cow Hollow contains structures from nearly every decade since the 1860s. This tour illustrates the transformation of the district from a rural suburb to a full-fledged city neighborhood.
Take a casual tree-lined walk on historic Green Street with its array of architectural styles. View close up the 1861 Octagon House and the charming Allyne Park with dog walkers enjoying the cool morning air. Marvel at the rich terra cotta detailing of the branch library. Stroll past the historic Sherman House where opera greats performed, and celebrities like Johnny Carson and Barbra Streisand found privacy. Veer southward to the majestic Casebolt House (1865), which once dominated the landscape. See the only remaining natural spring still flowing in Cow Hollow, and climax your walk by viewing the unique Vedanta Temple, the oldest Hindu temple in the western world.
On your own, take lunch on Union Street and explore its unique shops.
Next Tours
View Calendar
Notes
Tour Length: Approximately 1-1/2 to 2 hours
Location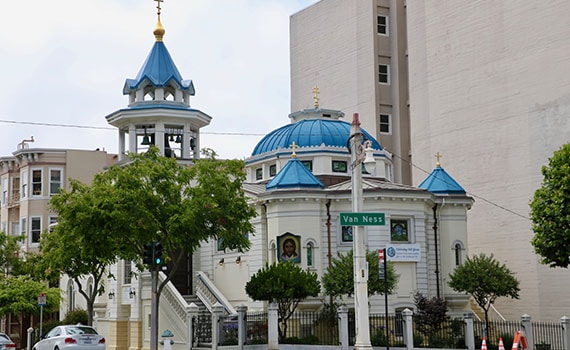 Meet at Holy Trinity Cathedral, Van Ness and Green. Public transportation: MUNI lines 45, 47, 49.
Click the map to view full version on Google Maps
View Transit Directions on Google Maps >>
Please note: Private groups tours required for groups of 8 or more.