Downtown Deco
Neighborhood: Downtown
Description
Even though the Art Deco movement was a French creation, it found a dedicated American evangelist in San Francisco architect Timothy Pflueger. As one of the most prominent architects in the city during the 1920s, Pflueger had a profound impact on the shape and aesthetic of San Francisco's early soaring skyline. His designs, along with those of other architects, reflected the times: his early skyscrapers invoke the jazzy buoyancy of the Roaring 1920s, and San Francisco's thriving economy throughout the period.
We'll take a comprehensive tour of all the Art Deco masterpieces in San Francisco's downtown — starting with the stunning lobby of the restored former Pacific Telephone Building including its Chinese motifs, the art-infused former Stock Exchange and Tower, the Egyptian-inspired Shell Building, and, the neo-Mayan medical building at 450 Sutter Street.
Soak up San Francisco of the 1920s through these elegant, timeless buildings.
Next Tours
View Calendar
Notes
Downtown Deco tour lobbies require visitors to wear masks.
Tour Length: Approximately 1-1/2 to 2 hours.
Location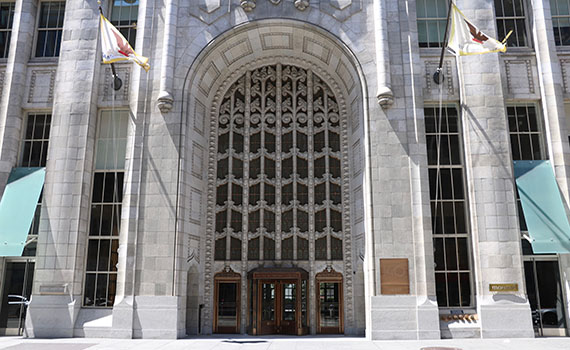 Meet in front of the Telephone Building at 140 New Montgomery, in between Mission and Howard. Public transportation: MUNI/BART Montgomery Station; all Market Street buses & streetcars.
Downtown Deco tour lobbies require visitors to wear masks.
Click the map to view full version on Google Maps
View Transit Directions on Google Maps >>
Please note: Private groups tours required for groups of 8 or more.