Embarcadero South: A Turbulent Port
Neighborhood: Embarcadero
Description
A double decker freeway used to run right through the middle of this tour!
In 1959 the Embarcadero freeway was built, severing the waterfront from the rest of San Francisco. Despite immediate calls for its demolition, it took thirty years and an earthquake to bring it down and restore the views of the Bay.
Transformation of San Francisco's downtown waterfront has been continuous since time of the Gold Rush. The city's most exclusive neighborhood once occupied space here. The original bustling seaport was facilitated by the construction of the seawall we rely on today. Considered an engineering marvel at the time, we now know that the seawall won't survive a major earthquake or rising sea levels.
Explore the land that enabled San Francisco's past, and see the work being done to catalyze its future. And the exclusive neighborhood? It disappeared completely…. until recently!

Next Tours
None scheduled in next 60 days
Notes
Tour Length: Approximately 2 hours
Formerly called Embarcadero South/Ruth Miller Ramble
Location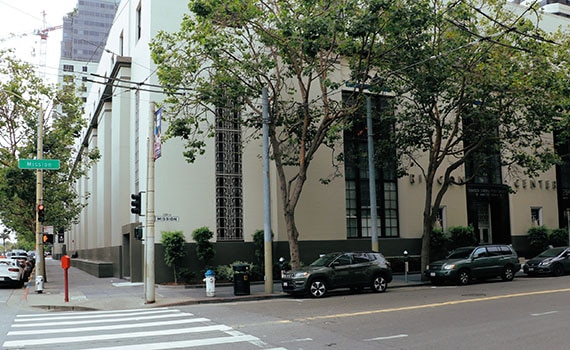 Meet at Mission & Steuart Streets, by Rincon Center. Public transportation: Muni lines 12, 14-Mission, all Market Street lines (to Ferries), and Embarcadero BART/Muni Station.
Click the map to view full version on Google Maps
View Transit Directions on Google Maps >>
Please note: Private groups tours required for groups of 8 or more.