Ferry Building
Neighborhood: Embarcadero
Description
For much of the early 20th century, nobody traversed the Bay without going through the Ferry Building. At its peak in the 1930s, it was the second-busiest travel hub in the world, shuttling more than 50,000 people both to and from San Francisco each day.
When the city built its famous Golden Gate and Bay Bridges, ferry travel dropped dramatically and the building suffered for decades. City officials took notice and renovated the Embarcadero over the '90s, helping transform the Ferry Building into a world-class food market focusing on local artisan creations. Today, it remains an iconic landmark of the waterfront (and a popular establishing shot for movies set in San Francisco).
Join us on a wondrous trip through the centerpiece of the shoreline. We'll spend time walking the Embarcadero, as well as exploring the gorgeous nave and shops of the building. Be amazed at the wholesale transformation of one of San Francisco's most important structures — and catch a view of the Bay to die for.
View Calendar
Notes
Tour Length: Approximately 1 hour
Due to the San Francisco Mask mandate, masks are required when going into buildings.  Properties may also require proof of vaccination.
Location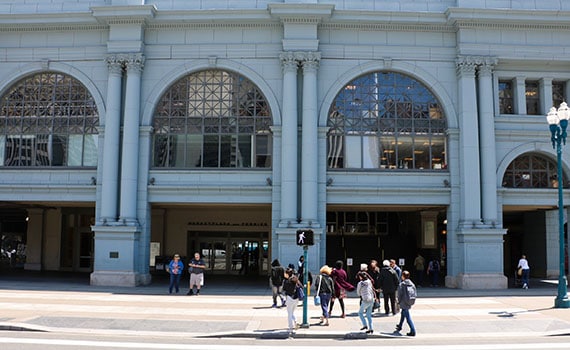 Meet at the main entrance, near the stairs to the 2nd Floor. Public transportation: MUNI F/Market, 14/Mission; MUNI Metro/BART Embarcadero Station. Lots of stairs; elevator available.
Click the map to view full version on Google Maps
View Transit Directions on Google Maps >>
Please note: Private groups tours required for groups of 8 or more.