Golden Gate Bridge
Neighborhood: Presidio
Description
What more is there to say?
It's an international symbol of San Francisco, a mind-blowing feat of engineering, and one of the most-photographed places in the entire world. The iconic Golden Gate Bridge has captivated locals and tourists alike since it opened in 1937. It was the world's longest and tallest suspension bridge at its opening, and almost a century later, remains one of the most impressive structures ever built by humans.
Immerse yourself in the story of the Golden Gate, featuring soaring architectural design, stunning engineering, terrifying geology, ripping currents and tides, famous fog, sailboats, ships, marine mammals, fearless ironworkers, naysayers, conservative bankers — oh, and an absolutely breathtaking view. Experience a true wonder of the world — with guides who can tell you how it all happened.
Next Tours
Sunday, December 8 at 11:00 am given by Ethan Chickering
Wednesday, December 11 at 11:00 am given by Stephen Banuelos
Thursday, December 12 at 11:00 am given by David Stubbs
Sunday, December 15 at 11:00 am given by Robin Seeley
View Calendar
Schedule
Thursdays & Sundays at 11AM
Location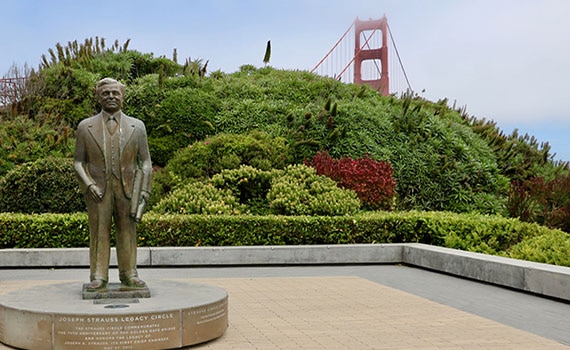 Meet at the Strauss statue in the visitors plaza, the SF side of the Bridge. Weather can be unpredictable. Bring a jacket! Public transportation: MUNI lines 28.
Click the map to view full version on Google Maps
View Transit Directions on Google Maps >>
Please note: Private groups tours required for groups of 8 or more.