Golden Gate Heights Stairways
Neighborhood: Golden Gate Heights
Description
With so many hills to explore in San Francisco, Golden Gate Heights often gets overlooked. Nestled in between Twin Peaks and the Sunset District on the westernmost side of the peninsula, it's a hidden treasure enjoyed by the few in the know. But that's changing: it was recently named one of the hottest neighborhoods in the nation. This year, travel websites are even starting to dub it the new Gold Coast. Finally, the spotlight is on the Heights.
Come along as we climb the beautiful mosaic stairways up to dramatic chert outcroppings that overlook San Francisco, the Pacific Ocean and the Marin Hills. With luck, you may see the rare spine flower and wallflower plants that bloom prodigiously along the path. Get your steps in and hear about the little-known stories that transformed the barren Outside Lands and created the trendy enclaves it's home to today.
Note: This is a mildly strenuous walk. Sturdy shoes are recommended.Tour will be canceled in case of rain
Next Tours
View Calendar
Schedule
Check calendar for schedule
Notes
This is a mildly strenuous walk. Sturdy shoes are recommended.
Tour Length: Approximately 1-1/2 to 2 hours
Location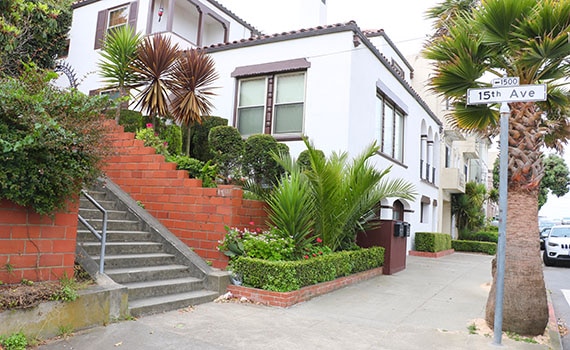 Meet at Kirkham and the base of the 15th Avenue stairway. Wear comfortable, sturdy walking shoes. Muni N Judah.
Click the map to view full version on Google Maps
View Transit Directions on Google Maps >>
Please note: Private groups tours required for groups of 8 or more.