Golden Gate Park: American History
Memories in Trees, Stone & Bronze!
Neighborhood: Golden Gate Park
Description
With more than 1,000 acres of monuments, trees and museums, you could get a pretty good retrospective of American history just by strolling through Golden Gate Park. San Francisco has used the park as a way to honor and connect to plenty of important events, including the American Revolution.
Join us on a delightful walk through one of America's greatest parks, where you'll hear about all the monuments — both well-known and obscure — and how they show San Francisco's commitment and connection to the rest of the nation. We'll also explore the wonderful consequences of the mid-winter fair of 1894 — Many of the park's famous structures can be traced back to that event.
Next Tours
Friday, October 9 at 11:00 am given by Kathy Long
Sunday, October 18 at 11:00 am given by Ben Leisure
View Calendar
Notes
Tour Length: Approximately 1-1/2 to 2 hours
Location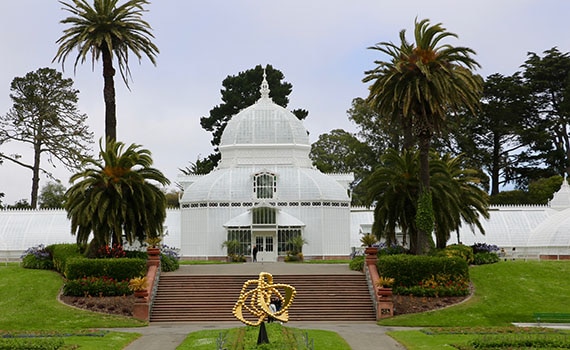 Meet in Front of the Conservatory of Flowers at the top of the stairs.
Click the map to view full version on Google Maps
View Transit Directions on Google Maps >>
Please note: Private groups tours required for groups of 8 or more.