Description
At the western edge of Golden Gate Park, within sight of the Pacific Ocean, the towering Dutch Windmill welcomes walkers. Surrounded by the year-round beauty of the Queen Wilhelmina Garden, the mill bears witness to the struggles of Park Superintendents William Hammond Hall and John McLaren to transform the shifting sands of the Outside Lands into a verdant landscape.
Relive the terrors and suspenseful rescues of mariners that are the legacy of the 1878 Life Saving Station which existed near the Dutch Windmill.
Trace the path of Leland Stanford's Park and Ocean steam train that brought San Franciscans to the western border of the park.
Marvel at the majestic Murphy Windmill (1908) and it's charming millwright cottage at the end of a woodland path.
Glimpse the site of a lost village in the dunes constructed of abandoned cable cars and streetcars. Relive the San Francisco of the 1930s with Coit Tower muralist Lucien Labaudt's depiction of the city at play on the walls of the 1925 Beach Chalet.
Next Tours
Wednesday, September 27 at 10:30 am given by Anne H.Sign Up
Saturday, September 30 at 10:30 am given by David P.Sign Up
Friday, October 6 at 11:00 am given by Debbie W.Sign Up
Thursday, October 12 at 2:00 pm given by Gail M.Sign Up

Saturday, October 14 at 10:30 am

(No Tour Today)

Wednesday, October 18 at 10:30 am given by Anne H.Sign Up
Saturday, October 28 at 10:30 am given by Allan S.Sign Up
Saturday, November 4 at 10:00 am given by Carolyn R.Sign Up
Wednesday, November 8 at 10:00 am given by Gail M.Sign Up
Saturday, November 11 at 10:30 am given by David P.Sign Up
View Calendar
Notes
Tour Length: Approximately 1-1/2 to 2 hours
Location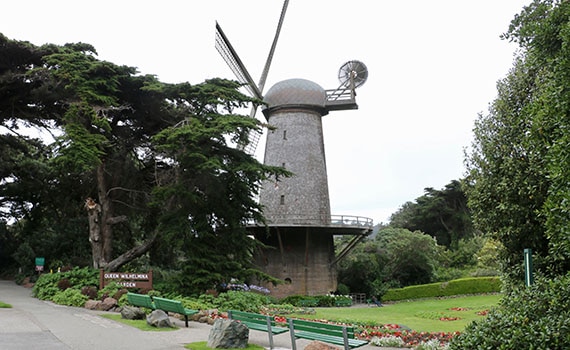 Meet at the North (Dutch) windmill, not the South (Murphy) windmill. The Dutch windmill is located at the northwest end of Golden gate Park, J.F.K. Drive at Great Highway near Fulton St.
Click the map to view full version on Google Maps
View Transit Directions on Google Maps >>
Please note: Private groups tours required for groups of 8 or more.