Historic Market Street: Path Of Gold
Neighborhood: Downtown
Description
When surveyor Jasper O'Farrell completed his 1847 proposal for Market Street, an abnormally wide boulevard cutting diagonally through the heart of the city, it wasn't popular. Landowning pioneers accused him of "wanton disregard" for their rights — and decided that lynching was the only course of action. Luckily, O'Farrell was warned by a friend. He hopped on a boat to Sausalito and waited out the mob.
Over time, feelings changed, and the street became San Francisco's main artery.
When it was rebuilt after the 1906 earthquake, it was dubbed the "Path of Gold", featuring installations by famous sculptors like Arthur Putnam and Douglas Tilden, and many architectural masterpieces from the Palace Hotel and buildings by Willis Polk to the first International Style building in the city.
Come and stroll the street that unites San Francisco. Learn how Market Street has evolved with the times, always remaining relevant. Hear epic tales born on the Path, from Gold Rush stories to cable cars, vintage street cars and the construction of BART. Explore a cross-section of San Francisco history in all of its bustling glory, from landmarks like the Ferry Building and Lotta's Fountain to the tales of Newspaper Row, the "Times Square of the West."

.
View Calendar
Notes
Tour Length: Approximately 1-1/2 to 2 hours
Location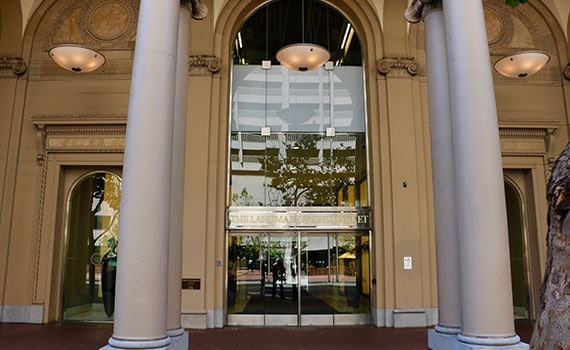 Meet in front of the Landmark Building at One Market Street, south side of Market St. between Steuart & Spear Sts.No hills. Wheelchairs welcome. Public transportation: BART and MUNI lines F, 2, 6, 9, 9L, 14, 14L, 21, 31.
Click the map to view full version on Google Maps
View Transit Directions on Google Maps >>
Please note: Private groups tours required for groups of 8 or more.