Japantown
Neighborhood: Japantown/ Fillmore Jazz District
Description
In the late 1800's, what is now known as San Francisco's Japantown hosted a vibrant Jewish community, as the sites of three present or former synagogues attest. Japantown per se dates from the earthquake and fire of 1906. During World War II, Japanese American residents were sent to internment camps and replaced largely by African Americans, whose thriving businesses included many jazz clubs.
Beginning in the 1950's, a decades-long urban renewal project reshaped both the neighborhood's population and its physical landscape. Today we see classic Victorians next to Japanese-style architecture, as well as the ghosts of historic jazz clubs replaced by modern structures of glass and steel.
View Calendar
Notes
Tour includes stairs and several blocks of uphill walking.
Tour Length: Approximately 1-1/2 to 2 hours
Location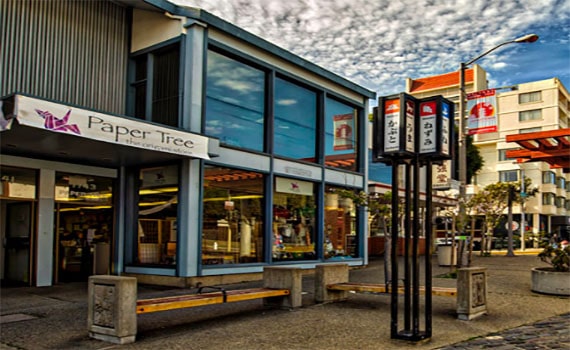 Meet in front of Paper Tree Origami Store in the Buchanan Mall between Post and Sutter Streets.
Note: Please check MUNI's most current schedule.
Click the map to view full version on Google Maps
View Transit Directions on Google Maps >>
Please note: Private groups tours required for groups of 8 or more.