Mission Dolores Neighborhood
Neighborhood: Mission
Description
See a mix of treasures in one of San Francisco's most eclectic neighborhoods, starting at the famous golden fire hydrant where hundreds of locals successfully fought to save the area during the 1906 earthquake. Learn the history of gorgeous Dolores Park, when it was home to earthquake survivors and where today you will enjoy one of the most iconic views of the city's skyline. Be dazzled by countless historic landmark Victorians, meander down the hip Valencia Street corridor, whet your appetite with sampling of murals, hear about a famous food corridor, and discover the city's Spanish history at the oldest building in San Francisco, Mission Dolores, the church of Saint Francis of Assisi.
You will travel through time, learning about the indigenous settlers, changes wrought by the arrival of the Spaniards and then the Mexicans, the transformation resulting from the Gold Rush that made the area San Francisco's first residential neighborhood, how it became a mix of the pious and impious, its years as a gateway for immigrants and how today it is a microcosm of this dynamic city.
View Calendar
Notes
Tour Length: Approximately 1-1/2 to 2 hours.
Location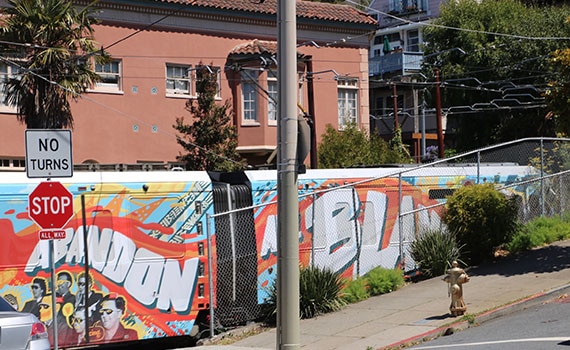 Meet at the gold-painted fire hydrant, SE corner of Church and 20th St.
Public transport: J Church
Click the map to view full version on Google Maps
View Transit Directions on Google Maps >>
Please note: Private groups tours required for groups of 8 or more.