Nob Hill
Neighborhood: Nob Hill
Description
Walk the streets where railroad barons, silver kings, and other wealthy San Franciscans built lavish mansions. Destroyed by earthquake and fire in 1906, those extravagant homes were replaced by luxury hotels, pricey condominiums, and a glorious Gothic cathedral. Hear stories of the success and scandals of the high society men and women who lived on Nob Hill, the place that locals call Snob Hill.
Experience the splendor of a world famous hotel where Tony Bennett first sang "I left my Heart in San Francisco". Visit a cathedral whose stained-glass windows honor scientists
as well as saints, whose memorial chapel displays sections of the AIDS quilt, and whose labyrinth is the site of both meditative walks and candlelit yoga classes.
You'll see the hotel where young soldiers and sailors lined up for drinks at the top-floor bar, enjoying fabulous views before shipping out to the Pacific during World War II. And if you choose to stay on the hill when your walk is over, your City Guide can direct you to that historic bar, or to San Francisco's most famous tiki restaurant, or even a place named after those infamous railroad barons.
View Calendar
Notes
Tour Length: Approximately 1-1/2 to 2 hours
Location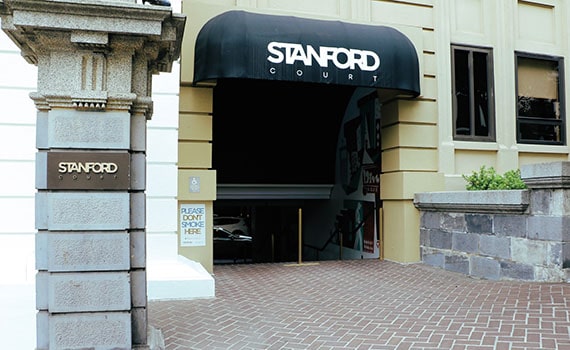 Meet at the front entrance to the Stanford Court Hotel – 905 California St
Note: Please check MUNI's current schedule.
Click the map to view full version on Google Maps
View Transit Directions on Google Maps >>
Please note: Private groups tours required for groups of 8 or more.