NOPA – North of the Panhandle
Neighborhood: Nopa/Western Addition
Description
Situated right in between the Fillmore District and Golden Gate Park, NoPa is a perfect microcosm for the city of San Francisco. As settlers arrived, it was a land of sand dunes and marsh, relatively inhospitable compared to the developing downtown. But it persevered, becoming a fashionable neighborhood as the city grew outward.
When the Depression hit, NoPa became a fully working-class neighborhood. The Summer of Love saw its homes occupied by bohemians who wanted to live near the action on Haight — only to exit the area following its demise. Today, it's a hip spot with gorgeous sights and fun around every block.
We'll examine how the lands have changed over the centuries, while hearing the details of cultural and ethnic change that regularly sweep the neighborhood. You'll walk by treasured buildings, lovely gardens, and some very familiar sights. Join us in the friendly confines of NoPa (just be careful calling it that in front of the locals).
Next Tours
None scheduled in next 60 days
Schedule
Check Calendar for schedule
Notes
Tour Length: Approximately 1-1/2 to 2 hours
Location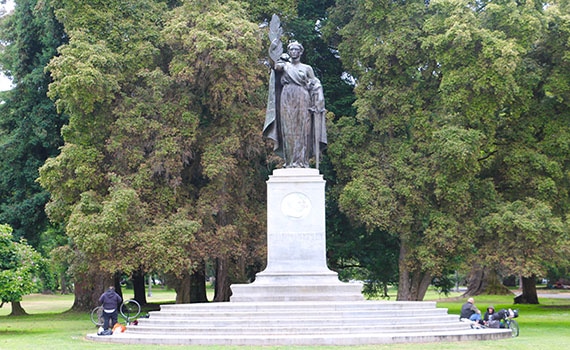 Meet on Baker St. between Oak and Fell St, across the street from the DMV by the McKinley Statue.
Click the map to view full version on Google Maps
View Transit Directions on Google Maps >>
Please note: Private groups tours required for groups of 8 or more.