North Beach
Neighborhood: North Beach
Description
When you bring up North Beach, most people think of the transformative literature produced by its local beatniks and bohemians in the 1950s. But that does a disservice to its rich history as San Francisco's Little Italy, where a swarm of immigrants in the 1910s established the authentic Italian character that remains its defining quality. The Beats may get the spotlight — but the Italians made North Beach what it is today.
We'll zigzag through all the hidden treasures born out of its Italian heritage, like the Saints Peter and Paul Church. See where Yankee great Joe DiMaggio, son of Italian fishermen grew up. Soak up the unique charm of this delightfully historic neighborhood and — if you can look up from the sights for a moment — see an unexpectedly spectacular view of downtown.
Next Tours
Saturday, January 25 at 10:00 am given by Fran Perry
Tuesday, January 28 at 10:00 am given by Barbara Cannella
Saturday, February 1 at 10:00 am given by Diane Schulze
Saturday, February 8 at 10:00 am given by Robert Zdenek
View Calendar
Schedule
1st, 2nd, 3rd & 4th Saturdays at 10AM, 4th Tuesdays at 10AM
Notes
Tour Length: Approximately 1-1/2 to 2 hours
Location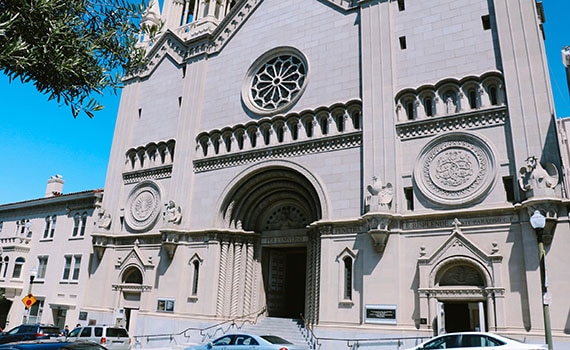 Meet at 666 Filbert Street on the steps of Saints Peter and Paul Church, across from Washington Square. Public transportation: MUNI lines 30, 45. Parking: city garage – 735 Vallejo, between Stockton and Powell.
Click the map to view full version on Google Maps
View Transit Directions on Google Maps >>
Please note: Private groups tours required for groups of 8 or more.