Russian Hill Stairways
Neighborhood: Russian Hill
Description
Before Willis Polk revolutionized architecture with the proto-skyscraper Hallidie Building, he spent his days designing relatively quaint, classical homes on Russian Hill. His direction elevated the neighborhood's aesthetic, inspiring both grand mansions and understated homes up and down its steep grade.
Come along and climb hidden stairways 345 feet above the Bay. Walk through bucolic lanes, national historic districts and beautiful natural spaces. See where Polk lived and worked, and discover a beautiful example of the Octagon House movement. It's an architectural gem, supported by an extraordinary vista of San Francisco. Trust us — the view is always better at the top.
Reservations are required.
Next Tours
View Calendar
Location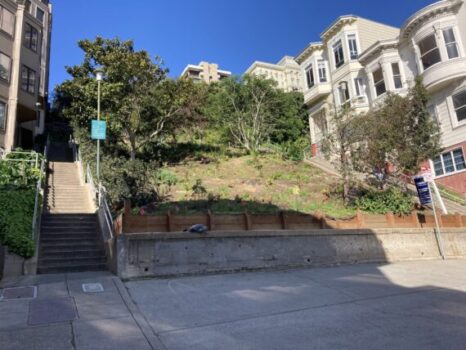 Meet at Mason and Vallejo at the bottom of the Vallejo Street Steps.
Reservations are required.
Click the map to view full version on Google Maps
View Transit Directions on Google Maps >>
Please note: Private groups tours required for groups of 8 or more.