Sacred Places In San Francisco
Neighborhood: Cathedral Hill (Gough/Geary area)
Description
When the Founding Fathers promised a nation of religious freedom, they were envisioning cities like San Francisco: filled with various places of worship, from synagogues to Buddhist temples to Catholic cathedrals. Though the city was founded as a Catholic mission, its history has been written by clergy of all denominations staking out a claim on different parts of the city.
Come and witness the astounding effect religion has had on the architecture of San Francisco, including a modernist cathedral, antique Japanese temple and a synagogue. Learn about the litany of religious symbols you'll see all over the city. Experience three of the most beautiful — if under-appreciated — public rooms in the Bay area. It's a transcendent experience no matter what religion you follow.
Next Tours
None scheduled in next 60 days
Notes
Tour Length: Approximately 1-1/2 to 2 hours
Location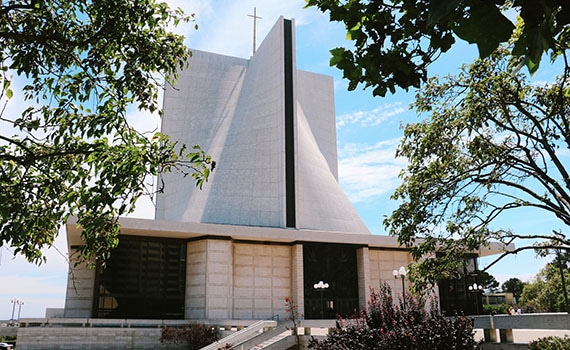 Meet at the main plaza entrance of St. Mary's Cathedral, Gough & Geary. Public transportation: MUNI line 38.
Click the map to view full version on Google Maps
View Transit Directions on Google Maps >>
Please note: Private groups tours required for groups of 8 or more.