Salesforce Transit Center
Neighborhood: SOMA
Description
Running just adjacent to the tallest skyscraper in San Francisco, the Salesforce Transit Center is a unique structure anchoring a new neighborhood and connecting the city with its suburbs and beyond. It sits in the heart of one of the city's original residential neighborhoods that was transformed into a center of light industry for more than a century. Today, it occupies the site of a 1939 transit terminal, but instead of factories and warehouses, it is surrounded by the tallest and newest buildings in the city.
Join us on a leisurely stroll of the stunning public spaces in this tour-de-force of post-modernist design, to learn about its features both functional and fantastic. We will tour its soaring Grand Hall, experience its multimedia public art and a "secret garden," visit the center's renowned rooftop park of lush gardens, and take in unmatched skyline views.
This tour is given in collaboration with the Transbay Joint Powers Authority (TJPA). The TJPA is owner and operator of the multimodal Salesforce Transit Center that connects nine transit systems from eight Bay Area counties; it manages the 5.4 acre public rooftop Park found on top of the Center and offers free public activities year-round; and it is working to extend Caltrain and ultimately, California High-Speed Rail service from 4th and King streets to the Salesforce Transit Center in downtown San Francisco through the Downtown Rail Extension project. For more information on the TJPA, visit their website.
View Calendar
Notes
Tour Length: Approximately 1-1/2 to 2 hours
Note that this tour is of the Salesforce Transit Center and rooftop park and not the Salesforce Tower office building.
Location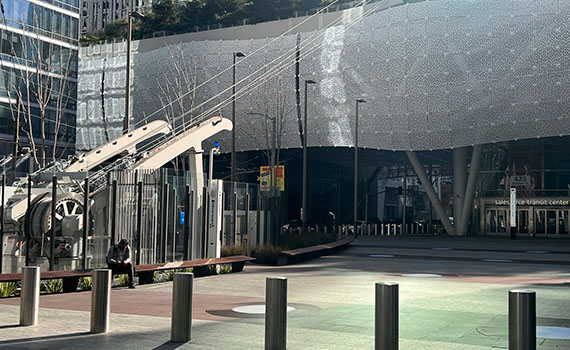 Meet in Salesforce Plaza on the South West corner of Mission and Fremont street, by the sky gondola.
Click the map to view full version on Google Maps
View Transit Directions on Google Maps >>
Please note: Private groups tours required for groups of 8 or more.