South Beach and the South End Historic Warehouse District
Neighborhood: South Beach
Description
Before it became a chic, trendy place to spend a night out — South Beach was known as Steamboat Point, a vast home to boatyards, warehouses and plenty of fishing. Most notably, it was also the headquarters of the Pacific Mail Steamship Company. The PMSC played a vital role in the development of the city: it was the first trans-Pacific service to provide a link between the US and Asia, jumpstarting the massive East-West trade that would dominate the century. Japanese immigrants boarded the steamers in droves. Chinese immigrants — many of whom would heroically construct the trans-continental railroad — joined them.
Immerse yourself in the rich history of one of San Francisco's most under-appreciated neighborhoods. See the remnants of historic brick warehouses and industrial buildings — including more than a half-dozen structures that withstood the 1906 earthquake. We'll examine the area's rail-roading history and find other fascinating nuggets: including an important Chinese fishing village from the 1850s and dockworkers' waterfront restaurants — as well as the artist would adorns them. Come and join us for a stroll through one of the most picturesque settings in the city.
Next Tours
None scheduled in next 60 days
Notes
Tour Length: Approximately 1-1/2 to 2 hours
Location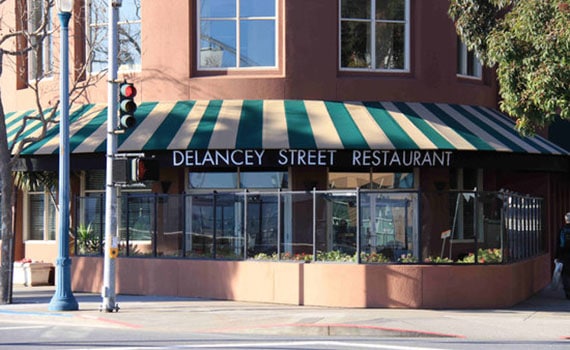 Meet on the corner of Brannan Street and Embarcadero (by the Delancey Street Restaurant awning).
Click the map to view full version on Google Maps
View Transit Directions on Google Maps >>
Please note: Private groups tours required for groups of 8 or more.