Silent Film San Francisco
Neighborhood: Financial District
Description
From one minute "actualities" to one of the most daring films ever made, from the flourishing of the Little Tramp to the ruin of another comic legend in a stunning scandal, San Francisco played a starring role in the era of the silent cinema. Fabulous locations, talent to spare in front of the lens and behind it — along with plenty of money — made the city a movie-making mecca, from an eccentric photographer's 1880 motion studies that gave birth to movie technology, to the setting for the scene in a Warner Brothers blockbuster that launched the sound era in 1927.


Join us on a trip through the streets where superstars like Charlie Chaplin, Mary Pickford, Buster Keaton, Lon Chaney worked. We'll stroll from the infamous Barbary Coast, through Chinatown alleys that sometimes served as Irish neighborhoods, to the site of the world's first moving picture exhibition in the Financial District. We'll walk through Newspaper Row where the greatest silent ever made was nurtured, and where the publisher satirized in "Citizen Kane" launched his own production company.
You'll learn about the famous, the obscure – and visit the site of the infamous incident that led to the downfall of Hollywood's highest-paid actor over the scandalous death of a young actress, a scandal that San Francisco Examiner publisher William Randolph Hearst claimed sold more papers than the sinking of the Lusitania. You'll hear tales of the studios in and around the city, how an impoverished actor in a Bush St. rooming house turned into the screen's greatest Latin Lover, about the San Francisco woman who became one of the greatest screenwriters in Hollywood, and how a labor riot in the 1870s affected the careers of Asian-American stars.
Next Tours
View Calendar
Notes
Tour Length: Approximately 1-1/2 to 2 hours
Location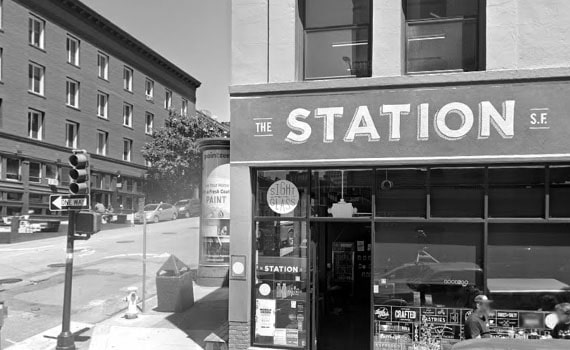 Tour starts at the southeast corner of Pacific Ave and Kearny St., across from "The Station" Cafe.
Click the map to view full version on Google Maps
View Transit Directions on Google Maps >>
Please note: Private groups tours required for groups of 8 or more.