South of Market (SOMA) Architecture Stroll
Neighborhood: South of Market (SOMA)
Description
Visit one of the greatest clusters of new buildings on the planet.
San Francisco quickly rebuilt itself following the 1906 earthquake. Likewise, following the burst "Dot-Com Bubble" of 2000 and the worldwide financial downturn in 2008, SF and tech companies teamed up to encourage the rapid transformation of the South of Market by relaxing zoning and height restrictions.
SOMA became an architect's dream: capital and demand were everywhere, and the district became an architectural gallery featuring soaring skyscrapers next to Beaux Arts and postmodern masterpieces.Rapid social and developmental changes, however, bring the complexities of traffic congestion, housing shortages, and homelessness, along with urban excitement. We will see a range of architectural responses to these stresses, including POPOS (privately owned public open spaces), plus responses to seismic threats.
Starting from Daniel Libeskind's Contemporary Jewish Museum (a reconfigured 19th century power station), traversing the streets and back alleys, we will see work by Willis Polk, Mario Botta, Snohetta, Timothy Pflueger, Cesar Pelli and Norman Foster, . . Winding up at San Francisco's latest icon: the mighty Salesforce Tower and Transit Center . . . . With its own 5.4 acre elevated park.
View Calendar
Notes
Please arrive 10 minutes before the walk is scheduled to start.
Tour Length: Approximately 1-1/2 to 2 hours
Location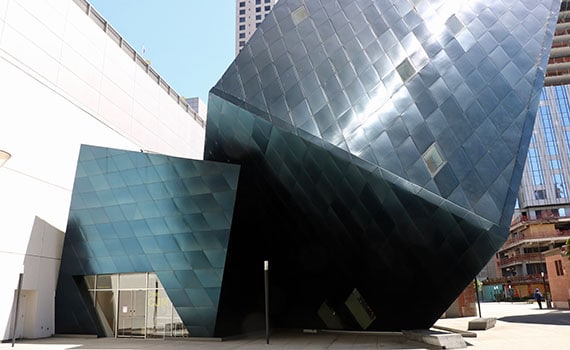 Meet on Yerba Buena Lane between Market St. and Mission St. at the Jewish Contemporary Museum's "Big Blue Cube".
Click the map to view full version on Google Maps
View Transit Directions on Google Maps >>
Please note: Private groups tours required for groups of 8 or more.