South of Market (SOMA) & Yerba Buena Gardens
Neighborhood: South of Market (SOMA)
Description
Before it was the illustrious South of Market — it was called "South of the Slot", a rough working-class neighborhood with a skid row reputation. Transients and seamen of all kinds passed through here, enjoying a healthy warehousing industry and all kinds of nightlife. Bars and gentlemen's clubs popped up on every block. Who would've thought it would eventually become the home of the dot-com boom?
The stories of SoMa could fill a hundred history books — join us on a trip through a few of them. We'll see an exciting variety of buildings, including a historic church, posh hotels, and the highest concentration of museums in the city. We then enter Yerba Buena Gardens. Here you will find any array of theaters, art museums, restaurants and cafes, all cradled by public art, sculptures, beautiful lawns and award winning architecture. An oasis in the middle of a vibrant city. You can embrace your every mood, celebrate diversity, and find green relief while discovering renowned museums, cafes, restaurants and theaters—all cradled by landscaped lawns, public art, and award-winning architecture.
Next Tours
None scheduled in next 60 days
Notes
Tour Length: Approximately 1-1/2 to 2 hours
Location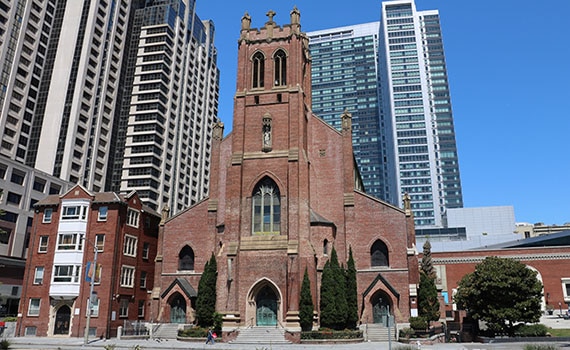 Meets in front of St. Patrick's Church, Mission St. between 3rd and 4th Sts. Public transportation: MUNI line 14; MUNI/BART Powell St. Station.
Click the map to view full version on Google Maps
View Transit Directions on Google Maps >>
Please note: Private groups tours required for groups of 8 or more.