Undercover Folsom Street
Neighborhood: SOMA
Description
On Folsom Street's "Miracle Mile", leather is always in. When the leather bar Tool Box opened in South of Market in 1962, it attracted the attention of the entire nation, inspiring breathless media coverage of this wild new phenomenon. Folsom was a fertile ground for the secretive gay and leather bar community: as a vast warehouse district, it provided large spaces that were often deserted at night. It would become the site of countless successful and significant clubs, including the Caldron, Fe-Be's and Slot.
Survey a collection of San Francisco's longest-running LGBT establishments and discover what remains of one of the city's most dynamic subcultures.
Note: Content may not be appropriate for children under 14 years of age.
Next Tours
None scheduled in next 60 days
Schedule
Check Calendar for schedule
Notes
Tour Length: Approximately 1-1/2 to 2 hours
Location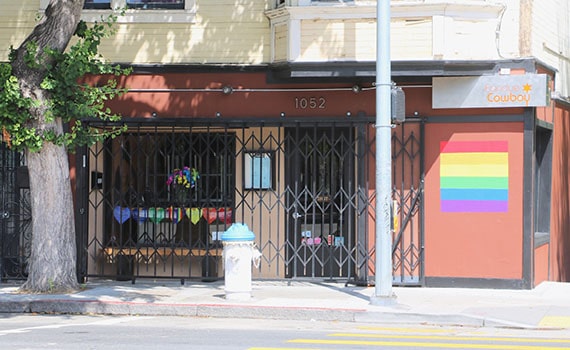 Meet at Folsom and Russ, NW corner, next to Fondue Cowboy. Public Transportation: Muni/Bart: Powell or Civic Center Station; Muni 12 or 27. Tour ends at 11th and Folsom.
Click the map to view full version on Google Maps
View Transit Directions on Google Maps >>
Please note: Private groups tours required for groups of 8 or more.