Description
San Francisco's Chinatown rose from the ashes of the 1906 earthquake to evolve into a Chinese community holding fast to its traditions amid a rapidly changing cityscape. Discover the local alleys where this community has continued to flourish for over 150 years, in spite of harsh racial discrimination.  Family associations and temples, dim sum, herbal apothecaries and jade jewelry shops built by the local community, all contribute to the vibrancy of this place, one of the oldest Chinese communities outside of China. 
Next Tours
Saturday, November 23 at 10:00 am given by Karena Yim
Monday, November 25 at 10:00 am given by Hope Kang
Monday, November 25 at 1:30 pm given by Rudy Kelly
Saturday, November 30 at 10:00 am given by Mae Schoenig
View Calendar
Schedule
Monday at 10AM & 1:30PM, Saturdays at 10AM
Location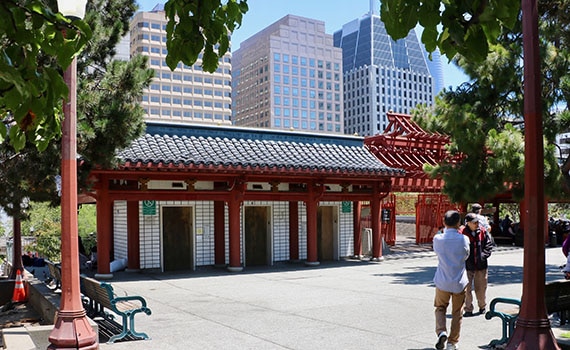 Meet inside Portsmouth Square Park, PARK LEVEL, in front of Parking Garage Elevators adjacent corner of Walter U. Lum Pl. & Washington St. Public transportation: MUNI lines 1, 30, and 45.
Click the map to view full version on Google Maps
View Transit Directions on Google Maps >>
Please note: Private groups tours required for groups of 8 or more.