Fisherman's Wharf: A Hidden History
Neighborhood: Fisherman's Wharf
Description
It may not look like it now, but underneath the sleek, commercial facade of today's redeveloped Fisherman's Wharf, hundreds of Italian immigrants built an entire industry on the backs of Dungeness crab. Dive into the tremendous history of a world-famous shore front. Hear stories of the lateen-rigged feluccas sailed by the city's fishermen. We'll talk about the bay and the courageous souls who've gone for a swim in it and if we're lucky we'll spot a harbor seal or sea lion.
Not everything on this tour happens on the water. We'll look at Ghirardelli Square, once the factory of San Francisco's most beloved chocolatier, and later an early adaptive re-use project. As we pass the Hyde Street Cable Car Turnaround, we'll spend some time discussing the distinguished history of San Francisco's cable cars, the last manually operated cable car system in the world.  For something truly unique we visit the Musée Mécanique, a completely analog arcade
But San Francisco has always been a seaport and we'll explain the stories of many of the historic ships anchored at the Hyde Street Pier, the largest in-water ship museum in the world.
Discover a new side of the Wharf, featuring stories of the Bay that locals themselves don't know.
Next Tours
Wednesday, November 4 at 10:00 am given by Susan McEvilly
Thursday, November 12 at 11:00 am given by Carol Walker
Wednesday, November 18 at 10:00 am given by Don McLaurin
Friday, November 27 at 10:00 am given by Susan McEvilly
View Calendar
Notes
Tour Length: Approximately 1-1/2 to 2 hours
Location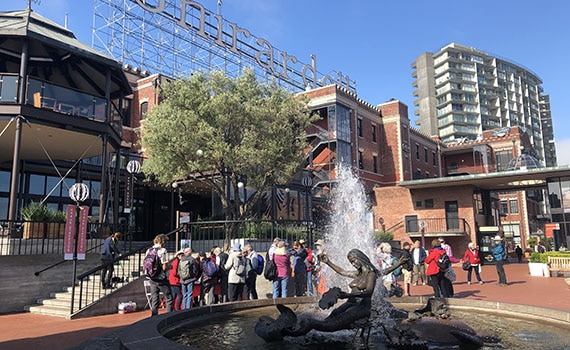 Meet by the Mermaid Fountain, main courtyard of Ghirardelli Square, off Larkin St. between North Point & Beach Sts.
Click the map to view full version on Google Maps
View Transit Directions on Google Maps >>
Please note: Private groups tours required for groups of 8 or more.