Description
Before the Gold Rush, Mission Bay was a simple, shallow inlet whose main residents were ducks. Early filling of the bay enabled the development of San Francisco's largest railroad yard surrounded by a bustling industrial district.
With the decline of rail traffic, this large valuable section of land became one of the city's largest construction projects . Starting with the expansion of UCSF medical and Bio Tech campus the spot has transformed into an active residential, business and entertainment hub for San Franciscans. Bio-tech startups and conglomerates have set up shop here, pumping huge investments into cutting-edge research. Nestled along one edge of this massive development is the Mission Creek houseboat community.
Even though the "bay" has mostly disappeared, the future of Mission Bay looks bright and beautiful — see the magic for yourself.
Next Tours
None scheduled in next 60 days
Schedule
Please check website for current schedule.
Notes
Tour Length: Approximately 1-1/2 to 2 hours
Location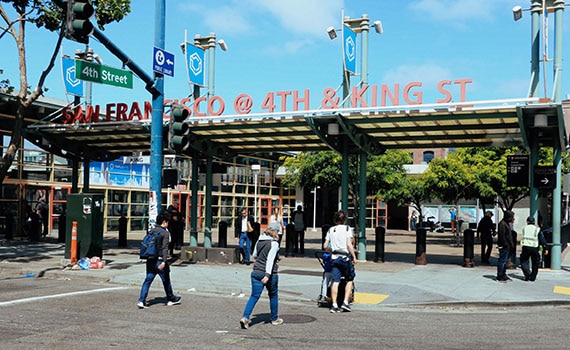 Meet in plaza on south side of Caltrain Station, 4th & King Streets. Muni: N Judah, T Third, 30 Stockton, 45 Union, 47 Van Ness.
Click the map to view full version on Google Maps
View Transit Directions on Google Maps >>
Please note: Private groups tours required for groups of 8 or more.