Description
Even for an eccentric city like San Francisco, Lillie Coit was an anomaly in the 1920s: a wealthy socialite known for smoking cigars, wearing trousers, and gambling like crazy (often dressed as a man to bypass the establishments' restrictions on women). When she died in 1929, her passion for San Francisco lived on, devoting more than a third of her fortune to beautifying the city she loved.
For Art Commission president Herbert Fleishhacker, choosing the location of Coit's memorial tower was easy: Telegraph Hill was considered by many to be the most beautiful panoramic vantage point in the entire city. Later on, artists and intellectuals swooped into the surrounding area, inspired by the gorgeous landscape and enigmatic hangouts. Grace Marchant would add the finishing touches to the area, spending 30 years developing the outstanding public garden alongside the Filbert Steps.
Come and uncover the colorful history of Telegraph Hill on a mile-plus hike, featuring incredible Bay views, hidden neighborhoods, and the famous parrots that call it home. Discover how Marchant and Coit were able to leave such an indelible mark on the area, and how early tech innovators have been developing it since.
View Calendar
Notes
Because of intervening cliffs, it is NOT possible to reach the Marconi Monument on Lombard from the east (Embarcadero) or on Kearny from the north (Fisherman's Wharf). Tour ends at Union and Montgomery.
Tour Length: Approximately 1-1/2 to 2 hours
Location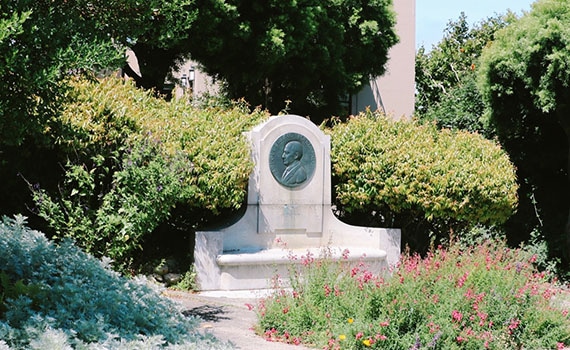 Meet at the Marconi Monument, opposite 290 Lombard, at the intersections of Lombard, Kearny and Telegraph Hill Blvd. Best approach is on Lombard from the west (North Beach).
Click the map to view full version on Google Maps
View Transit Directions on Google Maps >>
Please note: Private groups tours required for groups of 8 or more.