Description
Telegraph Hill is one of the most beautiful, panoramic vantage points in San Francisco, offering breathtaking views of the Bay. Come and uncover Telegraph Hill's colorful history on a mile-plus hike featuring incredible vistas and lush foliage.  Explore the hidden staircases that lead to Coit Tower atop the Hill, and discover gorgeous gardens and a beautifully landscaped neighborhood of cottages dating back to the 1850s.
As we explore one of the oldest parts of the City, we'll climb the Filbert or Greenwich steps to view charming wooden cottages tucked up these impossibly steep streets, and delight in lush greenery all around, a sweeping view of the Bay, and – if we're lucky – wild parrots!
 Delve into the past and learn how this modest peak earned its name. Hear about the people who have lived on Telegraph Hill, from the dock workers in the 1850s anxious to see which ships were arriving in San Francisco's harbor, to those who flocked to Layman's Castle on the Hill, to the artists and intellectuals who were inspired by the beautiful landscape, as well as famous personalities, including Grace Marchant and Lillie Hitchcock Coit, who left their indelible mark on the area.
Next Tours
Saturday, December 9 at 2:00 pm given by Stri Z.Sign Up
Saturday, December 16 at 2:00 pm given by Adam K.Sign Up

Sunday, December 17 at 10:30 am

(No Tour Today)

Saturday, December 23 at 2:00 pm given by Gail M.Sign Up
Saturday, December 30 at 10:30 am given by Mike P.Sign Up
Saturday, January 6 at 10:30 am given by Adam K.Sign Up
View Calendar
Notes
Because of intervening cliffs, it is NOT possible to reach the Marconi Monument on Lombard from the east (Embarcadero) or on Kearny from the north (Fisherman's Wharf). Tour ends at Union and Montgomery.
Tour Length: Approximately 1-1/2 to 2 hours
Location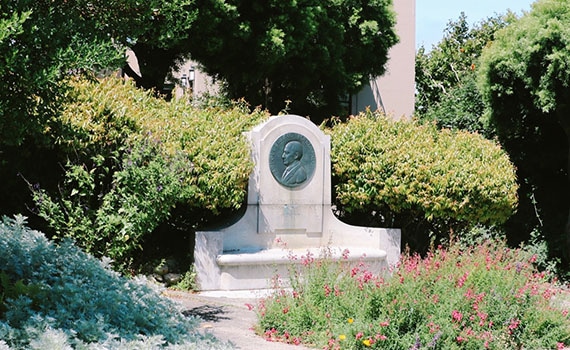 Meet at the Marconi Monument, opposite 290 Lombard, at the intersections of Lombard, Kearny and Telegraph Hill Blvd. Best approach is on Lombard from the west (North Beach).
Click the map to view full version on Google Maps
View Transit Directions on Google Maps >>
Please note: Private groups tours required for groups of 8 or more.